I help restaurant owners create cultures of excellence by implementing unique systems & processes.
The approach focuses on three pillars, PASSION, PEOPLE, & PROCESS. These pillars & their individual systems differentiates my consulting from any other & creates a positive impact on my clients business.
Working alongside my clients I develop a strategic plan within their business to build a strong, dynamic, & confident team in a landscape where the value on people is almost immeasurable.
Specializing in Team Management, Branding, Marketing, and Planning I tailor a plan for my clients needs. Constantly working to produce a platform for my clients to shine in what can be a very busy & noisy space.
With the success of our partnerships I create a lasting effect on my clients businesses that allow for them to realize their true potential and establish (or re-establish) a leading name for themselves in the industry.
I bridge the gap between the challenges and opportunities that allow for positive outcomes and defined growth with a heavy focus on the people.
I work alongside the bold and brave entrepreneurs, business men and women that make the Restaurant Industry what it is. Without their vision, commitment, follow through, and confidence none of the establishments their communities have come to love would exist.
I align with all existing Restaurateurs, but take the most pride in working with those that are witnessing a decline in their business or perhaps experiencing some distress in their growth.
At every stage of the business life cycle, a foodservice operation faces a unique set of challenges and opportunities. I bridge the gap between the two.
Working with existing businesses is a unique segment of this industry and I take a lot of pride in working alongside of these industry veterans. My experience, insight, and support holds a brands positive reputation and keep it top of mind in the industry. This has proven to help a brand remain rooted in what made it successful in the past while at the same time allowing for it to be a leader in the conversation of the present and the future.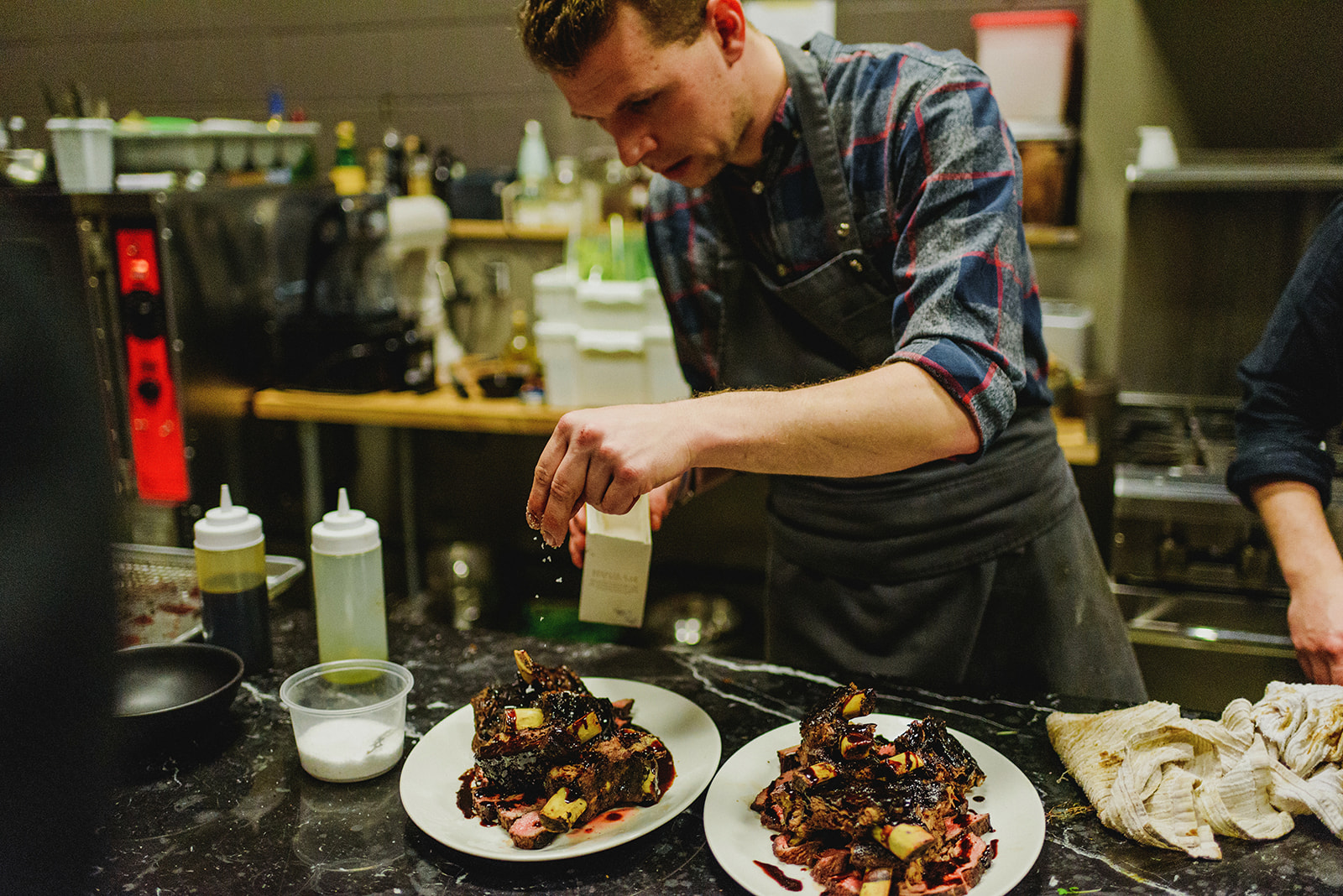 I work alongside of my clients and partners to create as much certainty as possible
In an industry that seems to be plagued with uncertainty I work alongside of MY clients and partners to create as much certainty AS possible for them and their working teams.
My approach to restaurant consulting is grounded in people and their engagement with your business on every level. From owners, senior management, integral staff, investors, guests, and the public yet to experience your brand I build confidence in everything that you do as a brand by strategically creating processes tailored to your business.
Along with my strategic process I pride myself in specializing in every aspect of the experience your brand creates. Within this industry I appreciate and have established a keen eye for the details when it comes to the presentation of a business, and never overlook even the smallest detail. The value of nailing the basics cannot be overstated.
I leverage my operational experience, my passion for this industry, my sincere desire to see everyones dreams realized and I provide you with a plan to move yourself, your team, and your brand forward.
Team management, Branding, Marketing, and Planning are the cornerstones of my business.
As a restaurant consultant I never shy away from a project that demands for me to step into roles and areas that aren't my go-to's I do find my best work is done when I stick with what I do well.
Team management, Branding, Marketing, and Planning are the cornerstones of my business. I take pride in helping my clients excel in these four areas and I believe strongly that excelling in these areas will create an undeniable recipe for success in this industry and so many others.
My name is Brad Bodnarchuk and this is my story.
Since I can remember I've loved food and have cared deeply about people. These two facts have brought me to where I am today. My desire to engage and nurture community paired with my passion for all things food has led me to this point.
From early childhood to the current day this industry has been in my blood marrying my two passions, PEOPLE & FOOD. I've found a home in this space since the age of 16 and arguably years before that in the kitchens of my family. From watching my Grandfather create his tortiere to my Mom patiently showing me how to scramble eggs I've been amazed by the power of food outside of its role to fuel our bodies.
Over the years I've been strategically working in and watching this dynamic industry change, keeping a close eye on the local market as well as those all over the world. My keen eye for detail and desire to create positive change for this industry has allowed me to create a niche in the market that currently isn't being served.
I challenge the status quo and encourage all of my clients to do the same.
in the current landscape your brand speaks for you before you even have a chance.
I take a serious and tactful approach to working alongside of you to ensure I have a thorough and complete understanding of your vision for your business. Working together to tie in all of your key stories and ideas to create a brand that will speak to your ideal consumers.
I am a fan of simple and clean designs that are strong enough to to represent you on their own. While I am not tied to one style and aesthetic, I strive to keep all of the branding I work on focused, concise and easily digestible by anyone that comes in contact with it.
Getting your brand noticed
From the multiple social media platforms to PR firms dedicated to activating a brand this industry is quickly becoming more diverse with the outlets and options to share your brand and tell your story.
My creative process is super unique and leaves me very confident in my ability to build solid marketing plans that will stand up in an extremely competitive space where individuals and businesses are working harder than ever to get noticed and then remain relevant.
The marketing of your business cannot be overlooked.
It is an area that I truly pride myself on and I love creating excitement and buzz around my clients brands.
TEAM MANAGEMENT
With TEAM MANAGEMENT my emphasis on people is unlike any other in the industry. I work tirelessly to understand your brand, your vision, and goals to ensure I am aligning you with the right working team. The approach I take with team management is an intensive and fun process that ensures your team is fully bought into your vision and understand what that looks like with precise execution.
PLanning
I am a firm believer that beliefs lead to emotions, emotions lead to actions, and actions lead to results.
The above is a key aspect to my business and how I operate day in and day out. It is imperative.
It's important to me to implement a solid, well thought out, and specific plan. Planning in any business is important, but in a business as dynamic as this the angles that must be considered are truly endless.
I work with unlimited resources of energy to ensure that your business is set up with a comprehensive and unique plan for you and your team to execute.
I take so much pride in this aspect of my business and I want for my clients to benefit from this as well. Creating a proactive culture instead of a reactive one will leave you far ahead of your competition and this would not be possible without creating confidence in your planning.
Contact Form
I love hearing from anyone and everyone in this space.
Drop me a line here and I will get back to you ASAP.